Monday's DEMONSTRATION, and words of support from John Evans.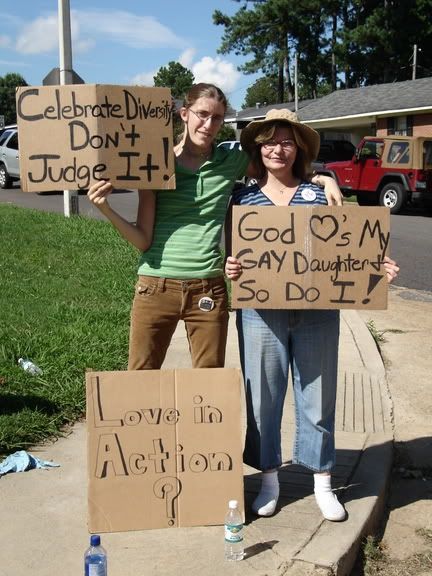 The demonstration went really well today. Participants were at the Love In Action headquarters for a little over an hour. A plethora of new people came out to show support, including a mother and her daughter, who are pictured at left. LIA employee's greeted protestors kindly from their cars as they departed the facility. A "client", taken away by his parent also noticed the colorful array of youth and parents alike, showing their love, in action. As usual, cars continued to honk in support as they drove down Yale road, giving the group their support.
The protest got off to a great start, as has every day of demonstrations, with blue, sunny skies. Today, however started special for QAC, as
we
received a package from one of Love In Action's two original founders, John Evans
, now an openly gay Christian living in California. QAC spoke with John on the phone last week. He was very encouraging, expressing the importance of voicing alternatives to LIA's practices, calling what they do "dangerous", and "harmful". At the time he had no knowledge that LIA had formed REFUGE, or that they had been counseling kids in any way. He was surprised, and reacted with disbelief.
"

Love in Action is a very, very dangerous organization that has been destroying people's lives since 1973, and they continue to do so today

"
When informed that LIA no longer referred to him as a founder of the organization, Evans responded:
"

Well, of course they don't, because they're scared...they're scared of letting people know the truth

"
He concluded the letter that came in the packet of information he sent us with:

"

Keep up the good work...God Bless You, John Evans

."
Also, check out a blog entry from MSNBC's Ron Reagan, titled
Conversion Camps?
"Summer's here, meaning thousands of kids are heading off to camp and participating in a host of familiar activities: hiking, canoeing, archery, re-programming their sexual orientation. Don't you remember that from your summers at camp?"