LAST DAY OF OFFICIAL PROTESTS/NEWS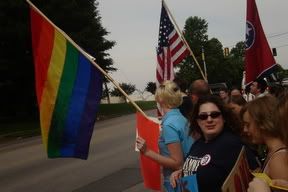 THE LAST DAY OF OFFICIAL PROTESTS infront of LIA were a success.
It's been incredible to see people coming out everyday, as we have all been a part of a huge effort among so many people who have been fighting really hard to expose the practices of LIA and show support for people being driven to this place day after day that might not otherwise know that they have other options. All of the energy, time and dedciation from teens, parents, former LIA clients, professors, psychologists, bloggers, etc...has been incredible. Now the challenge is, can we continue to remember that this is not a one-situation, one-person, one-protest issue? Let's keep the awareness and continue to provide "TRUE LOVE IN ACTION".....
MORE PHOTO'S FROM TODAY
UP-COMMING EVENTS
FRIDAY JUNE 24TH 7:00PM
The
MGLCC
will host the QAC, and the community to speak about the recent protests, and talk about further events, as well as an adgenda for the future of educating the public, and taking action when action is callled upon.
FRIDAY JUNE 24TH 8pm, and SATURDAY JUNE 25TH 8pm
@
The MeDiA Co-op
1000 S. Cooper Memphis, TN
PETERSON TOSCANO
, a former Love in Action client, will be coming to Memphis to perform his one-person play,
"Doin' Time in the Homo No Mo Halfway House"
. THIS IS NOT TO BE MISSED...PLEASE HELP SPREAD THE WORD!!!
SATURDAY JUNE 25TH @ 4pm
Perterson also will be doing "Talking Trash in the Homo No Mo' Halfway House --Language, Life and Lies in the Ex-Gay Movement", a more Lecture-stylized piece.
All events are FREE. Donations will be welcomed. PLEASE HELP SPREAD THE WORD BY EMAILING OUT AND LINKING TO THIS PAGE, OR POSTING THESE EVENTS ON YOUR OWN PAGES!! THANKS!