FUNDRAISER FOR LOVE IN ACTION DOCUMENTARY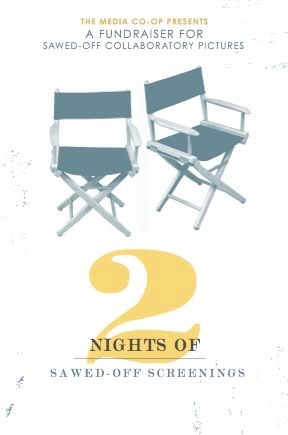 The QUEER ACTION COALITION, Director Morgan Jon Fox, and Sawed-Off
Collaboratory Productions seek your kind assistance.....
901-278-9077 for more info PAY WHAT YOU CAN!

Friday December 16th
7:30

What Does Love In Action Look Like: a preface (plus short films)
Saturday December 17th
9:30

What Does Love In Action Look Like: a preface (plus short films)
The Documentary follows an international news story that unfolded in
Memphis in the summer of 2005 surrounding the controversial "get
straight camp" Love In Action, and their teenage program called
Refuge. Sawed-Off needs funding to complete this documentary and then
promote it around the country for distribution and festival
screenings. What does Love In Action Look Like: a preface, the
companion piece to This Is What Love In Action Looks Like was awarded
the "Ron Tibbett Excellence In Filmmaking" award at the 2005 Indie
Memphis film festival.
Sawed-off's previous films which will screen the 16th and 17th have
been screened around the country and are distributed by Ariztical
Entertainment nationally on DVD.
Acclaim for The 2003 Feature, Blue Citrus Hearts:
"one of the top 15 films of 2003"
-The Commercial Appeal
-The Chicago Reader
"this movie captures all the awkwardness, angst, despair, exhilaration
and confusion of being a teenager. It's raw and aching, beautiful and
honest...
I am adding Fox to my list of filmmakers to watch and I am wondering
just what is going on in Memphis, Tenn., to foster work so solid and
accomplished"
-Chicago Free Press

All screenings will be accompanied by Q and A sessions....
HOPE TO SEE YOU THERE!!!!
If you are unable to attend but would like to make a donation...
Donations can be made through this page by double clicking the PAY PAL button.
Checks also can be made out to Sawed-Off Collaboratory Productions and
be mailed to:
Morgan Jon Fox
c/o MeDiA Co-op
1000 S. Cooper
Memphis, Tn 38104
If you'd like to make a TAX-DEDUCTIBLE DONATION, please email us, and
this can be arranged.
THANK YOU SO VERY MUCH FOR YOUR SUPPORT!